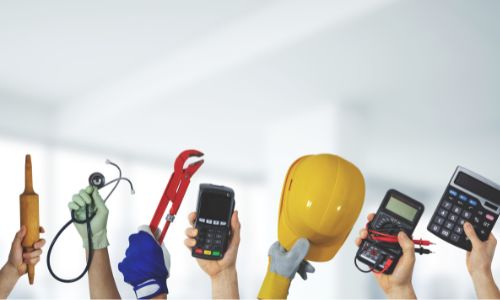 Workforce Development
Our Workforce Development team provides the training and resources needed to stimulate economic development and individual fulfillment. Our department provides a partnership between education and employers by offering industry specific education, training, and services that contribute to a highly skilled workforce. By collaborating with industry professionals, we close the skill gap and provide your employees with up-to-date, specialized instruction.
SENMC Workforce Development strives for the following:
Prepare individuals for new careers by teaching them Essential Skills in addition to the Technical Skills they need to be successful
Train individuals to step into the workforce or enhance their current skill sets to improve career advancement
Provide a wide-range of courses for individuals to build on interests or new skills
Improve your businesses by providing customized training at your location or at our location.
Classes are scheduled specifically for your organization, or participants may join one of our open-enrollment classes. SENMC Workforce Development offers professional development trainings in the following areas:
Employability Skills Assessment & Training
Computer Software Applications
Industrial Health & Safety Training
Technical and Occupational Skill Development
Facilitation and Organizational Development Training
MSHA New Miner Training, 24 & 40 Hour & 8-Hour Refresher
At Southeast New Mexico College, we provide MSHA safety training courses in both English and Spanish, ensuring that language is no barrier to workplace safety. The training taught in this course is required for anyone in traditional mining operations (developing, drilling, blasting, milling, extracting, etc.) as well as maintenance and service workers who are regularly operating mining equipment.  Construction workers who are exposed to the hazards of mining operations on a regular basis are also required to take this federally mandated training. Enhance your skills, protect your employees, and meet industry standards with our comprehensive and accessible training program. Classes are held twice a month, join us today and invest in a safer tomorrow. 
CPR, AED, and First Aid Training
Adding CPR, AED, and First Aid training to your workplace safety plan isn't only smart business, it's usually required. SENMC has options for CPR training classes—whether you're a seasoned safety expert, HR professional, or someone trying to make your workplace or community safer—we have you covered. Our safety instructors offer training for CPR, AED, First Aid, and advanced programs such as Basic Life Support (BLS). Designed to meet regulatory requirements, SENMC is a Nationally Accredited Training Center and offers a variety of ways for your organization to get full certification in CPR training.
Real Estate Pre-Licensing & Mortgage Loan Originator Programs
Through a partnership with The CE Shop, SENMC is proud to provide you with the highest-quality online Real Estate Pre-Licensing, Post-Licensing and Continuing Education courses. These are state-approved, self-paced courses that you can take in the comfort of your own home or anywhere you have internet access. In addition to real estate, our industry-leading, and NMLS-approved, PE courses will teach you the foundational knowledge you need to thrive as a mortgage professional. You're able to pursue your next career move anywhere, anytime.  Register today at   https://senmc.theceshop.com/
Online Certificate Programs
Southeast New Mexico College, in partnership with ed2go, offers flexible, self-paced certificate programs and personal enrichment courses. Click here to view our catalog of Online Career Trainings:   https://careertraining.ed2go.com/senmc/
Please contact our Workforce Development Department office at 575-234-9243 for more information on our available training modules and training schedules. Our dedicated instructors and staff members look forward to working with you.
Thank you for choosing us for all your training needs!