Science and Engineering
Mission
The mission of the Southeast New Mexico College Science and Engineering Department is to prepare students to live in a scientific and technically driven society by offering courses and degrees that meet the needs of three distinct groups of students: allied health students, students requiring general science credit, and students intending to pursue careers in science or engineering. We do this by offering courses that vary by discipline area and class delivery modes, as well as two degree programs: the Associate of Science and the Associate of Engineering.  In addition, we offer a certificate of completion in Geographic Information Systems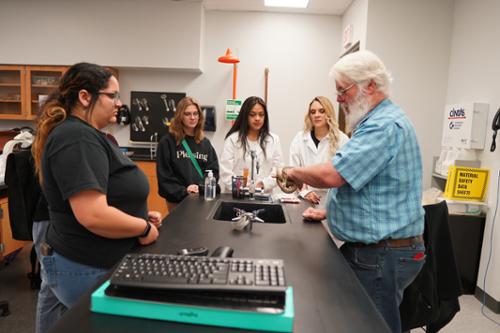 Associate of Science
The Associate of Science degree offers the choice of three different optional concentrations, which allow for an easier transition into a baccalaureate science major depending on the student's choice of major.  In order to earn an Associate of Science degree, the student must earn at least 16 credits in laboratory sciences.
Optional Areas of Concentration:
Biology Option
Natural Resources Option
Physical Sciences Option
Associate of Science in Engineering
The Associate of Science in Engineering degree prepares the graduate for an entry-level position in the engineering industry. Students may apply the Associates Degree coursework to a Bachelor of Science Degree in Engineering in one of several fields including Chemical Engineering, Civil Engineering, Electrical and Computer Engineering, Engineering Physics, Engineering Technology and Surveying Engineering, Industrial Engineering.
Geographical Information Systems Certificate of Completion
This certificate focuses on the systematic study of map-making and the application of mathematical, computer, and other techniques to the analysis of large amounts of geographic data and the science of mapping geographic information.  Includes instruction in cartographic theory and map projections, computer-assisted cartography, geographic information systems, map design and layout, photogrammetry, air photointerpretation, remote sensing, spatial analysis, geodesy, cartographic editing, and applications to specific industrial, commercial, research, and governmental mapping problems.
Faculty

Mr. Rick Wiedenmann


Department Chair




Professor of Biology and Environmental Science




Office: 234




(575) 234-9367


rwiedenmann@senmc.edu

Dr. Ron Girmus
Professor of Biology
Office: 233
(575) 234-9368
rgirmus@senmc.edu

Dr. Jamil Al Nouman
Professor of Engineering and Physics
Office: 2L
(575) 234-9274
jal-nouman@senmc.edu

Dr. Yiqun (Bobby) Huang


Assistant Professor of Chemistry




Office: 229




(575) 234-9361


yhuang@senmc.edu